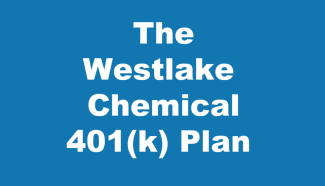 What You May Not Know About Your Westlake Chemical Benefits
Westlake Chemical provides a full suite of benefits from medical and dental to disability, 401k savings plan, and life insurance. We have found that clients are most curious to learn about how to integrate their current savings rate and 401k match into their overall financial situation and eventual retirement preparedness.
401k match and Annual Retirement Contribution (ARC)
The Westlake Chemical 401k matches 100% of your contributions (up to 4% of your pay) every payday when you make your contribution. In addition, the Company contributes an Annual Retirement Contribution (ARC) in an amount equal to 8% of eligible compensation. Eligible compensation includes base pay plus overtime, up to IRS limits, and excludes bonuses. This is a very promising feature as it allows you to essentially benefit by saving "free money" on a before tax basis.
So, what's the question?
While these benefits are certainly worthy of leveraging, if it makes sense for your personal situation, there are a few questions you should consider instead of just assuming that they are for you.
Three questions to ask yourself
First, do you have an adequate amount of cash saved to live off of if you were to lose your job or be the victim of a catastrophe? If not, you'd likely have to rack up debt which comes with an interest charge attached to it.
Second, think about what the long-term picture looks like. Saving large amounts of income on a pretax basis is very valuable but also will mean that at some point in the future you'll be paying tax on it, most likely when you retire and withdraw your Required Minimum Distributions at age 701/2.
Ask yourself, what does that picture look like – are you likely to be in a higher or lower tax bracket than you are in today? Is that your only savings vehicle? Does a Roth IRA, children's education fund, or personal taxable account deserve to be a part of your financial picture?
Third, are you on track with the amount you are saving? For example, your retirement projections are based on the current value and amount of annual contributions. Do you know where you stand right now? Contributing your normal $250 a month is nice, but is it enough? Is it more like $600 a month that is needed?
Also consider that investments are only part of the overall strategy and tax, estate planning, and retirement planning also play a critical role in your overall wealth picture.
What's the next step?
Congratulations on making the smart first move and participating in the Westlake benefits plan. As your next move it may make sense to become informed about the questions raised in this article. You can do so by researching on your own, but it also may be logical to speak with a financial advisor to get a personalized assessment of where you stand.
To set up a time to speak with us please email shane@advisor.investments.
Disclaimers
Our associates are NOT affiliated, recommended, nor endorsed by Westlake Chemical or any other company. Any documents and materials presented herein have NOT been reviewed or approved by Westlake Chemical or any other company and may not be accurate representations of documents and materials published by Westlake Chemical or any other company.