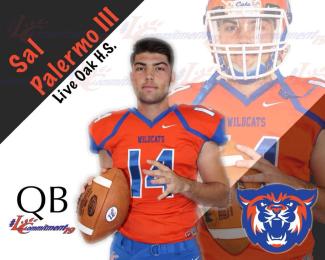 The Making of an LC Wildcat: Interview with our own Shantelle Palermo
We recently found out that Shantelle Palermo, a team leader with our company, will see her son off to college this fall at Louisiana College at Pineville. He'll be playing football for the Wildcats!
We had to sit down with Shantelle to find out what the process was like getting a child into a collegiate sports program. We were surprised at what we heard; and you will be too. Enjoy!
Advisor investments: Was there ever the question of whether or not your child should play sports in college, or was it something that your family had been planning for with certainty for a while?
Shantelle:
I would have never in a million years thought my son would be playing any collegiate sport. He always played baseball and football since his early childhood. He had a passion for sports naturally but it was more just something he did.
I personally emphasized his grades and academic achievement more than anything. If you look at the statistics, he would be lucky to make a high school team. I didn't imagine he'd be playing college sports and I wanted him to have the grades so that he could be eligible for different scholarships and merit programs more than the sports.
Advisor investments: So how did this come about, then?
Shantelle:
My son is more of a passing quarterback. His high school runs a triple option so they don't pass a lot.
The summer before his junior year in high school he went to a couple of football camps. One of the coaches there saw him throwing the ball and that's where the interest started. He got to go on a few unofficial visits to ULL his junior year and then his senior year he had a couple of schools looking at him.
He went on unofficial visits at Southeastern Louisiana University and University of South Alabama and official visits to East Texas Baptist University and Louisiana College. We kind of left the decision up to him as to which school he would go to.   
Advisor investments: Applying to college is a stressful enough financial decision. Did having the sports factored in make it more difficult?
Shantelle:
East Texas Baptist was a private school so there was a large difference in tuition. It was more a question of where he felt comfortable playing. I believe he wanted to feel like the coach truly wanted him there and that there was a true opportunity for him to play. I think that weighed a lot in his decision.
You have to wait for them to truly make a decision and commit to a team. Everyone else was applying for colleges in the fall. But he was not applying. There was the potential to lose some merit money that a lot of the schools offer for early enrollment. So that added some stress to the process.
Advisor investments: How much did your input weigh into the final decision vs. his?
Shantelle:
I just supported him in the process and encouraged him to handle his decision on his own as much as possible, to weigh the pros and cons himself. It was a way of preparing him to deal with real life situations as a young adult. However, if we felt he were about to make a terrible decision, we would have offered advice.
My big concern was that I didn't want him to end up at a school where he was playing football but it didn't offer his major or what he wanted to study, or to go somewhere and get a degree that wasn't valuable to him.
We were hoping for him to go to a school and get a degree that was meaningful and also to graduate debt free. Working in the industry for so long, I've seen so many families struggle with the heavy debt burden from college.
We had some concerns about encouraging him to go to a school where he had to take out a lot of loans. We felt that if we let him do that, we were teaching him at a very young age to live beyond his means. It just felt like we were not doing our job of teaching him to be financially responsible.
Conclusion
This interview isn't offering financial advice. It is an example of how one family was able to help their child achieve his dream in a way that made financial sense. College planning is never as simple as it seems as there are many technical and emotional factors to take into account. If this is a decision that you are considering, please consider reaching out to us and coming by to visit.
Disclosures:
Please remember to contact Diversified Investment Strategies, LLC dba Advisor.Investments, in writing, if there are any changes in your personal/financial situation or investment objectives for the purpose of reviewing/evaluating/revising our previous recommendations and/or services, or if you want to impose, add, to modify any reasonable restrictions to our investment advisory services, or if you wish to direct that Diversified Investment Strategies, LLC DBA Advisor.Investments to effect any specific transactions for your account.  A copy of our current written disclosure statement discussing our advisory services and fees continues to remain available upon request.
Please remember that past performance may not be indicative of future results.  Different types of investments involve varying degrees of risk, and there can be no assurance that the future performance of any specific investment, investment strategy, or product (including the investments and/or investment strategies recommended or undertaken by Diversified Investment Strategies, LLC dba Advisor.Investments), or any non-investment related content, made reference to directly or indirectly in this newsletter will be profitable, equal any corresponding indicated historical performance level(s), be suitable for your portfolio or individual situation, or prove successful.  Due to various factors, including changing market conditions and/or applicable laws, the content may no longer be reflective of current opinions or positions.  Moreover, you should not assume that any discussion or information contained in this newsletter serves as the receipt of, or as a substitute for, personalized investment advice from Diversified Investment Strategies, LLC dba Advisor.Investments.  To the extent that a reader has any questions regarding the applicability of any specific issue discussed above to his/her individual situation, he/she is encouraged to consult with the professional advisor of his/her choosing.  Diversified Investment Strategies, LLC DBA Advisor.Investments is neither a law firm nor a certified public accounting firm and no portion of the newsletter content should be construed as legal or accounting advice.  If you are a Diversified Investment Strategies, LLC dba Advisor. Investments client, please remember to contact Diversified Investment Strategies, LLC